College Fair in the Commons
Students filled the commons on November 13 for the college fair. Different colleges were set up at booths around the commons as students picked up information sheets at the tables and talked to representatives from each college.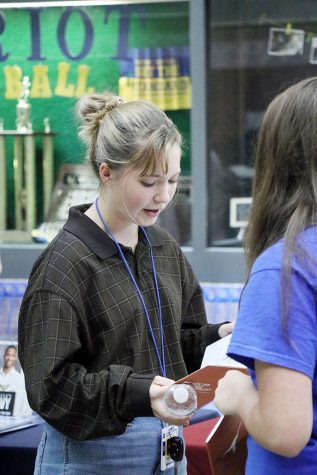 Many Texas colleges attended including UNT, Eastfield and TSU. The event, which only juniors and seniors were allowed to attend lasted during all four lunches. Some colleges had pamphlets and information sheets that were handed out to students. Some even giving out candy and other incentives to students who stopped by.
College representatives were able to talk and reflect on the things they liked personally about their colleges and why they believed it was a good fit for students. The colleges mentioned the Dallas County Promise – a program that financially aids students with community college tuition in Dallas.
"Community college is a great way to transition from high school to college," Eastfield's representative LaKayla Cooper said.
The college fair was a great opportunity that students used to learn more about colleges and plan for their future. Many options were presented to students so those who were still unsure of a major they want could have other options presented to them..
"It was intriguing and fun," senior Fernando Ruiz said. "Getting to learn about different opportunities that colleges and the military has to offer. Especially the navy. [I'm] looking forward to the culinary program there."
Leave a Comment