Safe Haven Attends Pride Parade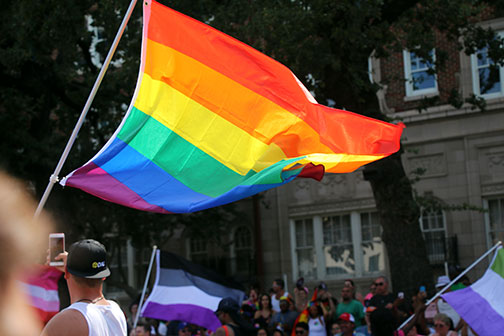 Hang on for a minute...we're trying to find some more stories you might like.
On September 17, Dallas held their 34th Alan Ross Texas Freedom Parade (Pride Parade) and this year,  Safe Haven attended to celebrate their pride.
Now some may not see Pride as a vital and necessary event or something that really needs to be felt in the community however, there are many students, teachers, and faculty members here at Lakeview who feel as if it is very much needed.
"I feel that having pride encourages us so that we can no longer have to fear what other people think when it comes to society's view onto the whole of the LGBT community," junior Ricky Cuevas-Sotelo said.
Having pride is something that Safe Haven encourages among their members. They strive to keep a sense of a community and family with anyone who comes into a meeting, and that's one of the reasons why they motivate members to attend Pride. Although some students may not attend Pride for a number of reasons, there are plenty that do attend each year and believe that's imperative for Safe Haven to continue encouraging their members to take part in the occasion.
"I strongly feel that it's important for Safe Haven to encourage pride due to not many people having it," Cuevas-Sotelo said. "People tend to shy away from who they really are and succumb to what society thinks of them and who they are, but if we encourage them to have pride in themselves and in the fact that they are a member of a community rather than alone, they will be able to stand up for everyone else that is scared to."
The Pride Parade isn't just people standing around and waving rainbow flags at the passing floats. It's about being able to feel and act like yourself as you're surrounded by others who will not judge or hate against you for being you. It's nothing more or nothing less than a happy celebration for people all around that we can look forward to every season.
The Dallas Pride Parade was an extraordinary, colorful, and cheerful time. Safe Haven had many members attend, and for some of them this year's Pride was their first ever, and what a great way it was to begin their Pride experience at Dallas Pride. Safe Haven was able to experience a very important and expected season of the LGBT+ community, and it has always gotten better each year that the club, or even individual members attend, as more and more of us attend and celebrate.