Senior Night: The Final Shot
In the last home game of the season, Lakeview defeated the North Garland Raiders 62-41. Extending their win streak to four games, the Patriots have a 21-7 record against North Garland and has beaten them in the last eight matchups. This win secured Lakeview a spot in the playoffs, along with three other schools in the district.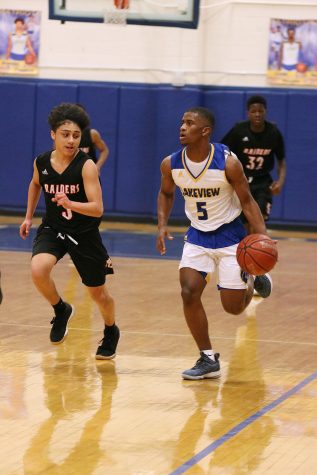 "We dominated them the entire game," junior D'Quarius Burton said. "Everyone did their job on both ends of the ball. It felt really good getting a win on the last home game of the season, especially for our senior guys."
The Patriots went on an offensive tear during the second half of the game, going on a 14-2 run throughout the third and fourth quarters. They also dominated the boards, grabbing 57 rebounds as a team, along with blocking four shots.
"We started to have a rhythm during the second half and we couldn't be stopped," senior Aaron Wortham said. "We were scoring left and right. As a team, when we get into our rhythm, we can be unstoppable."
Lakeview, along with South Garland High School and Sachse High School, will be the three schools representing Garland ISD in the state playoffs this year. The Patriots, who are currently in second place in district, believe that the championship round can be theirs for the taking.
"I think we make some serious noise in the playoffs and go very far," senior Ariyon Williams said. "The regular season is only the first part. Playoffs is where we really show what we are capable of. We are ready for any team that we face during the playoffs."
Not only was this the last home game of the season, it was the night of honoring our senior players for their contributions to the team.
"This team has brought me some great friendships and I am truly grateful for all of my teammates," Wortham said. "They have been like brothers to me and have always supported me throughout high school. From freshman year to now, we've had a special bond as a team on and off the court. They have helped me be the person I am today."
Leave a Comment