Boys varsity soccer: Lakeview vs north garland
The boys varsity soccer team took on North Garland on Friday, February 25 – kicking off district play. The two teams held the same intensity throughout the entire game, and there was no clear winner at any given time. The game ended in a 1-1 tie, which took the two teams to penalty kicks. Lakeview fell short in the penalty kicks round, and they were defeated.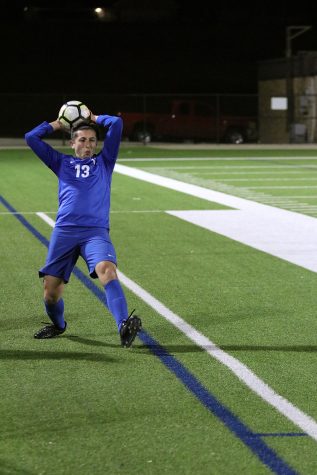 Lakeview played with a balanced 4-1-3-2 formation looking to attack and be ready to defend on counter attacks with ease. Sophomore and midfielder Saul Leija started the game, and he said he felt satisfaction with the team, but not contentment.
"We are performing good, but not good enough," he said. "We are doing little mistakes that brings us down as a team."
North Garland scored with time to spare, but striker and sophomore Robert Martinez tied the game in the last minutes of the match. Sophomore Itzel Tule attended the game and said it was an enjoyable game.
"The team performed really well," Tule said. "I truly enjoyed the game; it was really intense."
In spite of Lakeview's performance, the penalty kicks ended the game with North Garland winning 3-2.
Leave a Comment