"La La Land" Review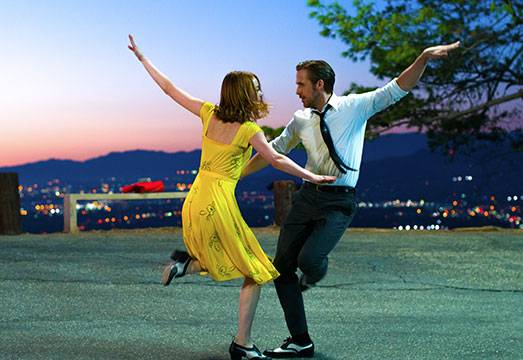 "La La Land", a musical, starts out with an opening number that, in itself, is worth several oscars. These feelings of bittersweet reunion, peppy music numbers, and heartbreak are very reminiscent of the Golden Age of Hollywood. During this time, musicals and dance numbers were iconic in their imagery, production value, and resonance with people. Movies like "Singin' in the Rain," "The Sound of Music," and "Mary Poppins" are some of these, the feel-goods, the icons.
The story follows Emma Stone playing Mia, an aspiring actress constricted under today's bizarre and harsh Hollywood climate. She then encounters a struggling musician, Sebastian, whose love for Jazz drives him towards his goal of opening his own jazz club. They quickly encounter feelings for each other and the rest is history, but in a bittersweet twist in the end that with have any viewer wishing them both luck.
I highly suggest "La La Land" to anyone in love with musicals and romantic comedies. The nostalgia, the Oscar-worthiness, and the imagery and soundtrack are some of the most beautiful things I have ever seen and heard. Iconic is the only word to truly describe this masterpiece of a film.
Update: The Golden Globes have come and gone and now "La La Land" is the "most-winningest" film in Golden Globes' history. The film received numerous awards, including Ryan Gosling's Best Actor award