Tech Day at LC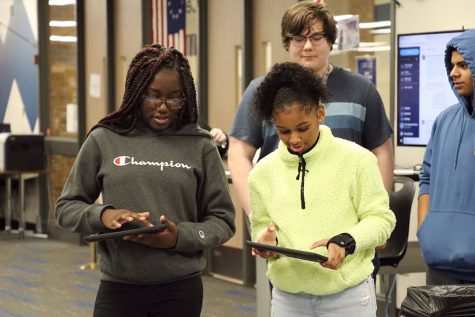 On Thursday January 16 in the library, Lakeview held its second annual tech day. Tech Day was held by the Digital Militia, or the Impact Team to teach other students how to utilize technology in school and for fun activities.
"I [had] fun," junior Joury Robertson said. "I'm just going up the ramp of things to do."
There was tons of activities held for students including painting with sphero, an online scavenger hunt, and even teachers using spheros to teach a few things in their classes.
"I think this is a good way to explore technology at our school," junior Jaxon Andrews said. "It shows how we are advancing with school and education in general."
Teachers were helping students interact with the technology and allowed them to take control as teachers directed what to do. This gave students the opportunity to navigate spheres.
"The goal today is to open students eyes and teachers eyes of what we have to offer with technology in the classroom," said pre-calculus and calculus teacher Amy Davis.
Teachers and students were able to work with each other to help create an educational environment at school. This also gave students a challenge for their future by letting them use technology.
Leave a Comment