Here's the Thing About Dress Code
For a while now talk about dress code has gone viral on social media. Many high school students feel as if their schools' guidelines for dress code is "too strict" and should be reconsidered. At Lakeview, dress code is accommodated to permit students to wear comfortable attire in a modest way.
"As building principals," Principal Maresa Bailey said, "we're supposed to adhere to what's in [the student code of conduct]. Does every principal adhere to it the same way? Probably not. My true philosophy is it's my job to adhere to that and if I don't adhere to all of it then it null in voids."
Clothing is another form of expression and can often help students make new friends. While it is important to meet the student body's needs, GISD must also ensure that the school dress code requires students to wear appropriate clothing.
"Clothes can make students feel more comfortable when they're wearing what they want," senior Daniela Barrera said, "and sometimes dress code can get in the way of that."
According to GISD dress code guidelines, skirts, shorts, and dresses must be fingertip length and shirts should not reveal breasts, stomachs, or shoulders. These rules are put into place in an attempt to instill "dignity" and "modesty" in the general attire of students.
"Instead of saying you can't wear [ripped jeans] at all," Bailey said, "we thought, okay, let's look at this a different way. If the rips are below fingertip on anyone, guy or girl it doesn't matter, then they need to have something underneath it and it's fine. But there are high schools in Garland that don't allow or try to enforce no ripped jeans."
Some students believe that the dress code is too strict and should be revised to accommodate new fashion trends. Although it's in GISD's interest to make every student happy, rules that apply to dress code must be followed by every student.
Leave a Comment
About the Writer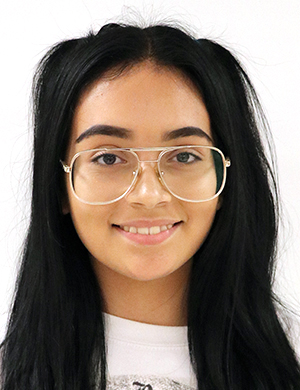 Caroline Aguilar, Editor-in-Chief
This is my third year on staff, and my second year as editor-in-chief. I love to cook, and I love writing!