Patriots Varsity Track Going To State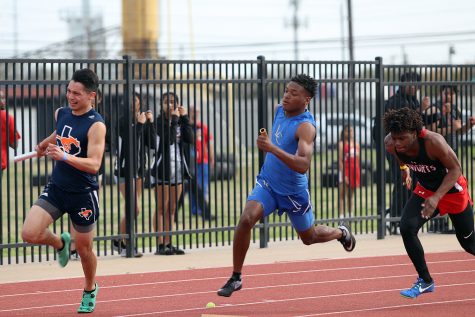 Lakeview made history at Waco Midway High School during the regional track competition. The Lakeview boys and girls varsity team both qualified for the state competition at the 6A Region II track meet. Sophomore Camar Wheaton, junior Garnett Burke, and seniors Zikamein West and Elijah Wilson will represent the boys varsity team in the 4×100 meter relays for the first time in school history. Representing the girls varsity team, senior Mariah Ayers will compete in the 100 and 200 meter sprints. She is the only athlete in Lakeview history to qualify for state for three consecutive years.
"It's something big because we dreamed about it all of the time," Burke said. "The dedication we put in was only right. We didn't work this hard for nothing. We earned that in return."
The relay team set a school record with 40.80 seconds in their 4×100 relays. Ayers finished first place in the 100 meters and second place in the 200 meters competition.
"This has been every single person's largest accomplishment as a team and individually," Wilson said. "Even for our coaches, we are their first team to go to state. Everybody's focused into bring home gold."
The state track meet will occur on May 11 at Mike A. Myers Stadium at University of Texas in Austin. With this continuation of greatness at Lakeview, bringing home gold will further Lakeview's reputation as one of the best schools in GISD.
"This should definitely be the time to come to Lakeview Centennial if you're planning on doing big things for your next four years," Wilson said. "The popularity will take care of itself as long as we handle our business. Whenever people see us putting on a show, whether its track, football, basketball, or the classroom, they'll know where to come."
Leave a Comment