Patriots Boys Varsity Basketball: Lakeview vs. Garland
After a huge loss against Wylie High School, the Patriots defeated the Garland Owls 72 to 43. Lakeview has a 23-8 record against Garland, and has beaten them by an average of 18 points in every win. Lakeview's defensive play was the main factor into them winning the game. They stole the ball eight times and never trailed the entire contest.
"Our defense has been our secret weapon this season, and it has made us a more confident team," senior John Silvero said. "When a team dominates defensively, they will be successful on the offensive side of the ball."
The Patriots' offense was just as dominant as their defense against the Owls. They put up 33 points in the first half. In the second half, the Patriots scored a total of 39 points – 26 in the fourth quarter alone.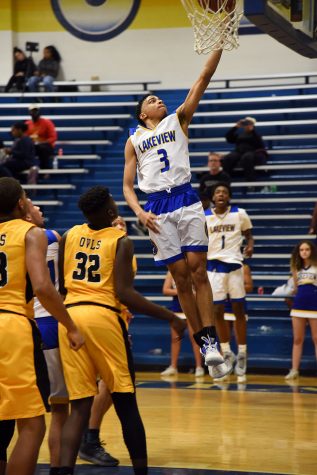 "We had a rhythm going the whole game," senior Ariyon Williams said. "Our defensive play allowed us to control the offensive side of the ball. We were unstoppable. It was definitely one of our best games we have played."
Lakeview is currently second in the district with a 15-9 overall record (7-2 in district games alone). Playoffs are just around the corner, and the Patriots are confident that they can make some real noise and show who they are as a team.
"I truly believe that our team can finish strong this season and shake up the playoffs," senior Jemarcus Caldwell said. "It's up to us to stay true to our identity as a team and we will be successful. Playoffs is a whole different season. We are ready to do big things in that season." 
Leave a Comment