Freedom Promotes Perseverance and Hope
Members of Freedom (Lakeview's pop singing group) performed a small show in the choir room during every period on Tuesday, November 6. The singers were originally going to go to Lyles Middle School to perform their show, but Lyles was unable to host them. Instead of not performing their songs at all, Freedom made the most of their situation and gave their show for the students at Lakeview.
The show consisted of a variety of group songs, solos, and duets. The theme of the show was perseverance and hope.
"We decided on the theme because we all have had hardships in life – whether that be due to family, relationships, or just life in general," Freedom co-captain senior Jackson Mansell said. "We thought a theme of getting through heartbreak and hardships and having perseverance fit where we and many others are all at in our lives."
Each performance had different solos and duets sung. During second period, junior Mahlah Clements performed the song "Rescue" by Lauren Daigle. Clements said that she heard the song and immediately knew it should be her solo.
"This past month has been a really rough time for me – family wise and with school," Clements said. "One of the first songs I heard from Lauren Daigle's new album was 'Rescue.' I heard it, and I immediately knew it would be my song. It really showed that no matter what I'm going through, my God will always be there for me and there to rescue me."
Freedom co-captain senior Zoe Phillips sang a solo and played her guitar during the third period show. She performed the song "Heaven is Not Too Far Away." She said she originally heard the song on "America's Got Talent." The group's mom had recently died of cancer, and the song was meant to show how they will one day see her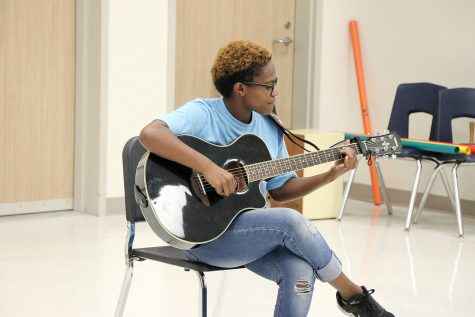 again.
"I hope that a lot of people in the audience felt inspired from my song," Phillips said. "It meant a lot to be to be able to perform that song in front of my friends."
During the second period show, Lakeview's choral singing group Meisters performed the song "And So It Goes" by Billy Joel. Senior Mei Lan Troeung said that it felt nice getting more recognition than they usually do.
"It felt invigorating to perform in the show," Troeung said. "Meisters has been rough lately, and performing recentered the energy and work ethic of the group."
Choir teacher Audra Turner said she was proud of the group for maintaining their enthusiasm throughout the all four shows.
"All the members kept up their energy really well," Turner said. "It's hard to sing all day and keep up the energy, and they did it really well. I thought the last performance was just as good as the first."
Many students who attended the show said that the song "Flashlight" really hit home to them. The singers sang the song while holding up their iPad with a negative word people may say about them. Then, half way through the song, they switched their words to be positive. The singers wanted to show how sometimes people may pull them down, but it's important to overcome it.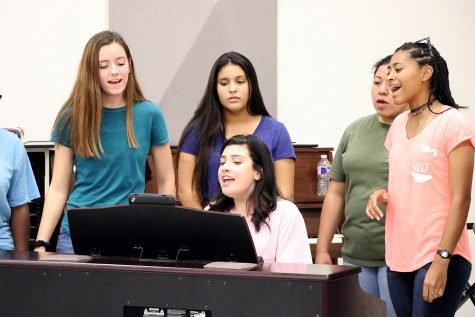 "We've gotten feedback from students and teachers saying that they were really touched by 'Flashlight'," Turner said. "I feel confident that Freedom accomplished their goal of encouraging their audience through their songs."
Junior Katherine Zamora sang with the pop group and played the piano to accompany some of their songs.
"I love playing with them singing," Zamora said. "It's so much fun, and we enjoy jamming out together."
Teachers were offered the opportunity to take their classes to the performances. Piano teacher Brenda Whitlow took each of her piano classes to the Freedom show.
"I think our fine arts program should be supportive of each other's programs," Whitlow said. "It's good to be aware of other things going on in the school – musically and artistically."
Despite the change of plans for the singing group, they still performed four shows for Lakeview, and many of them said they enjoyed it just as much.
"Performing in front of everyone was very cool, and I'm glad we were able to have so many different people come see us," Mansell said. "This was our first big performance other than the pep rally, and I think our group did amazing. I'm so proud of all my Freedom sisters."
Leave a Comment
About the Contributors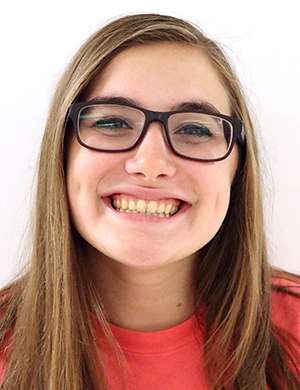 Natalie Taylor, Copy Editor
I am the copy editor for the school newspaper and editor-in-chief for the school's yearbook. I am also an ALS advocate and caregiver, and I support DACA...